Printer Remote Control
Click the Printers page to see all printers available in the connected GMG ColorProof instance. In three different views, you easily get an overview which printer needs to be recalibrated or is in error status.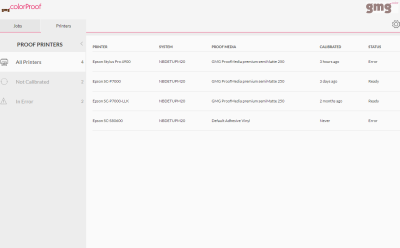 How to change the loaded media type or media width
You go to the printer, load a new media type or a new media width, and select the corresponding media type or width on the printer panel. Then you open GMG ColorProof GO from any computer, go to the Printers list, select the printer and click the Change Media button.
You select the same media type and media size that you selected on the printer panel. That's it!
How to recalibrate a printer
Before using this feature in GMG ColorProof GO for the first time, make sure that you have enabled the following option in GMG ColorProof: System > General > Default View Settings > Close AutoCali Wizard after Successful Calibration. Otherwise, the printer calibration status will not be updated correctly in GMG ColorProof GO.
On the Printers page, click the Not Calibrated button on the left to see all printers that need to be calibrated. Select one of those printers and click the Calibrate button to start the calibration.