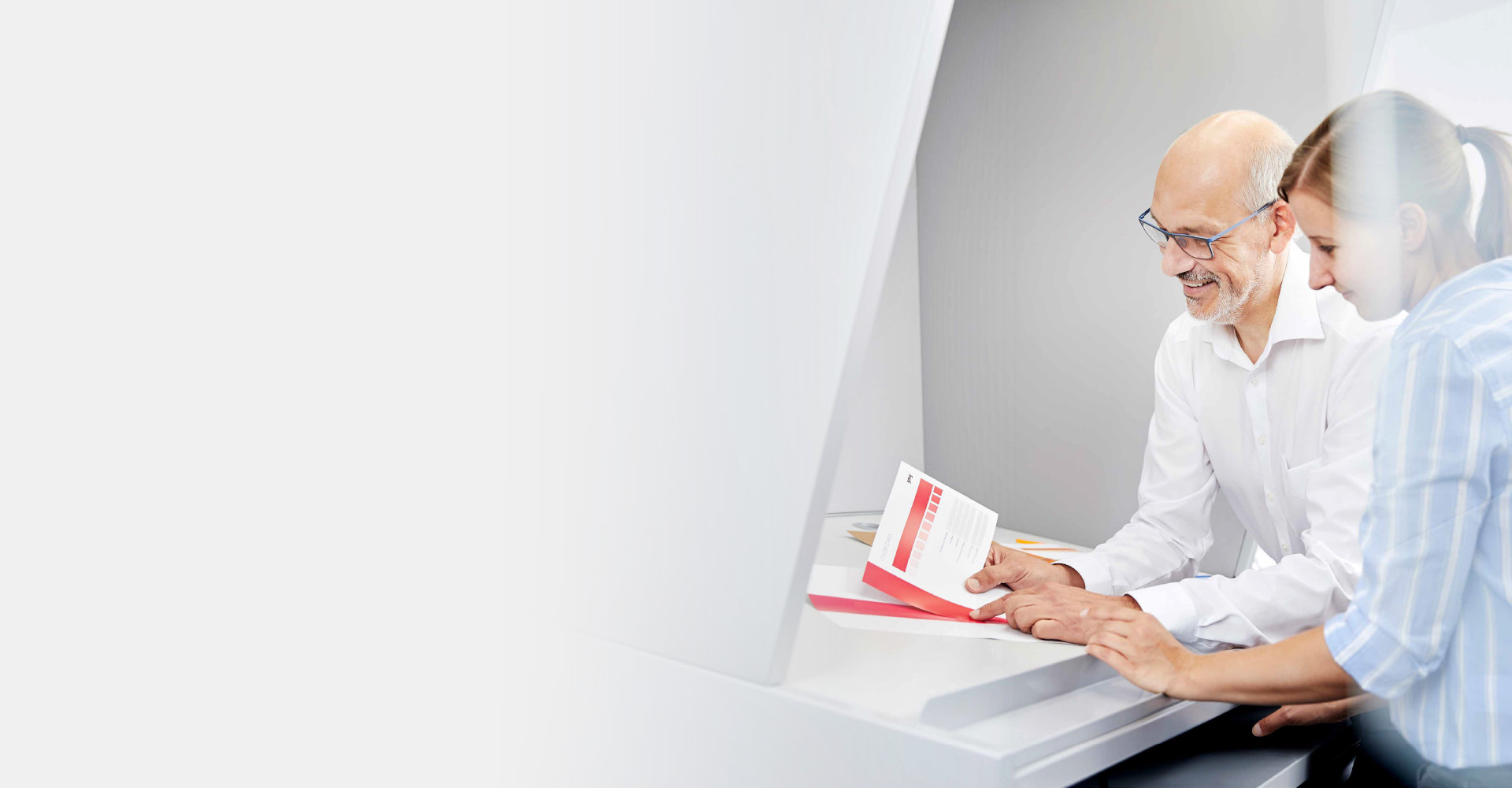 Accurate color,
convincing solution
GMG ColorCard: smart color references
for the packaging industry
---
New: create accurate digital ink drawdowns in less than three minutes
The future of color reference is digital:
No more time-consuming, manual processing

Forget staff shortages as GMG ColorCard is so intuitive, it can be operated by anyone

Say goodbye to quality fluctuations

Inconsistencies when re-producing ink drawdowns are a thing of the past
It's time to digitize your ink kitchen
Thanks to GMG ColorCard, you can create reliable color references with spectral data-based precision
The visualization of individually created color recipes with a digitally-produced color card revolutionizes the dialogue between the ink kitchen, the printer and the client.
Time-consuming brand color approval cycles are drastically reduced. Tolerances can be discussed and agreed with the customer before print production, not only increasing efficiency in the ink kitchen, but also on press.

Digital ink draw-
downs in less than
3 minutes
GMG ColorCard: trusted by all stakeholders of the print process
The innovative technology convinces on every level
Color references produced by GMG ColorCard are used globally

Thousands of cards are used in color communication on a daily basis by leading brands

Countless colors have already been approved based on GMG ColorCard

Leading ink manufacturers trust GMG ColorCard
---
Simple, precise, efficient: the smart solution for accurate color references
One brand color – many different substrates
Precise representation of spot colors on different paper qualities

Predictability of color appearance facilitates communication with all stakeholders

Flexibility through choice of pre-configured simulations of different substrates



Precise representation of production tolerances
Enables concise communication of realistic production conditions

Ensures a smooth press pass

Unbeatable for quality control at goods in



Indispensable for packaging designers too
​Precise simulation of tint values for production accurate design

Color-accurate visualization of text elements for legibility testing



---
Pays off in no time: GMG ColorCard

Basis: customer surveys in packaging printing. The time saved varies depending on the application scenario.
Time savings of up to 90% have been measured for subsequent productions.
GMG ColorCard reduces costs and
optimizes color communication.
​
For you too? Let's talk!

Digital color cards in three simple steps
1
Import CFX-file
The result of your ink recipe is already saved as a .cfx file. Import this file into GMG ColorCard with one simple mouse click.
2
Selection of substrate
Select the substrate, for example brown corrugated cardboard.
3
Color accurate printing
It has never been so easy to create any number of physical color cards.
Every spot color can be exactly reproduced - with unbeatable accuracy. Color cards are printed in a matter of minutes. If we require more, an employee in the ink kitchen just presses the print button. All data is archived and digitally stored color cards don't age. They can be accurately reproduced at any time.



Alexander Gaugenmaier
Quality Manager at Edelmann Group

​Low costs, simple re-runs
Benefit from the cost savings of a digital solution with GMG ColorCard – amplified even more when additional color cards are required.

10-minute introduction
Now you can produce accurate color cards up to 90% faster. The application is extremely user-friendly – after a short induction you're ready to go.

Visualize production tolerances
Communicate precisely what is important. Customizable color card layouts allow you to depict exactly the elements relevant for your project.

Globally recognized color accuracy
Be it the brand, ink manufacturer or the printer – if all parties approve identical color references, the outcome is sure to match everybody's expectations.